Delivery
Profile & Hospital Beds
At Healthcare Distribution Direct we provide logistic solutions for healthcare and mobility equipment retailers and suppliers through our expert nationwide delivery engineers who not only deliver but install profile and hospital beds both direct to consumers and trade clients.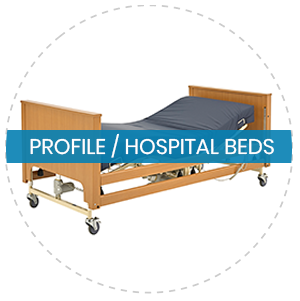 We provide fast and efficient delivery and an expert installation service via our team of qualified healthcare engineers who will also demonstrate the product and provide advice on their care and maintenance to prolong the products lifespan as part of a complete handover process that ensures your end customer is completely satisfied.
We provide you as a retailer a complete turnkey solution for both individual consumers as well as company clients via our experienced and professional team of healthcare qualified engineers.
Our team deliver, fuss free, a wide range of electric profiling care beds for home nursing, hospitals and the medical industry. Along with this we also deliver profile beds for the disabled and other specialist beds, as well as pressure care mattresses and accessories on behalf of healthcare suppliers across the UK.
What's more, our commitment to quality does not end with the delivery of a profile bed. We are passionate in our belief that exceptional after-sales service is essential and our friendly and qualified team of expert healthcare engineers provides exactly that – through install, training and as part of a  complete in-depth handover process
Our expert team are experienced in the set-up and demonstration of all types of profile and hospital bed. As a customer your able to track orders via our website, allowing you and your end customer to track the progress of an order in real time for complete peace of mind.
How our Profile & Hospital delivery service works