Delivery
Engineered Delivery
Engineered Delivery is a unique offering from Healthcare Distribution Direct which provides fully trained, directly employed quality assured engineers who deliver, install, demonstrate and handover a product providing our clients customers with an expert and efficient service every time.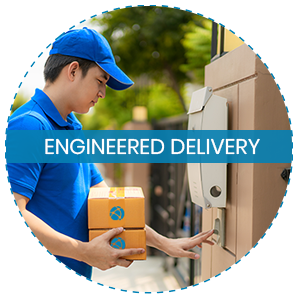 We pride ourselves on quality customer service providing you with a complete turnkey logistics solution via our conscientious, knowledgeable, and experienced healthcare certified engineers. Our engineers are experienced in the install and set up of powered chairs, rise recliner chairs, hoist systems, profiler beds, mobility scooters and much more.
As well as there set up our team are also well versed in expertly demonstrating how they work and best practise along with providing handy hints and useful advice that prolongs the life of the equipment for the client as part of our extensive handover process. Our team work to ensure your client is completely happy with the process leaving your customer truly satisfied and ready to trust your company for their next purchase.
How our Engineered Delivery service works
Our engineer will arrive on an agreed date and time that's made via our dedicated customer service team. Our engineer will set-up, install and test the healthcare or mobility product to ensure it's fully working and ready for the customer to use, leaving the customer safe in the knowledge that their new product has been fitted correctly to manufacturers guidelines.
Furthermore, they will provide the customer with a full handover sheet and ensure they are happy with their new purchase and that they fully understand how it works and how to take care of their new product. They will also provide the customer with helpful hints and insights on how to look after the product to prolong its lifespan.
Engineered Delivery in 4 Simple Steps