Delivery
Hoists & Stand Aids
Healthcare Distribution Direct provides a fast, efficient, and expert delivery service for a wide range hoists and stands on behalf healthcare and mobility suppliers throughout the UK direct to their customers.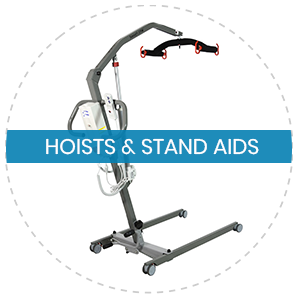 Our nationwide fleet of healthcare trained engineers will expertly install the new hoist or stand and fully demonstrate the product to your client as part of a complete handover process that ensures your customer is completely happy with their new purchase.
Our team are experienced in the set-up and demonstration of all types of hoist and stands from all major brands including standing hoists, mobile hoists, portable, gantry and ceiling hoist systems.
We understand the life changing effects that a hoist and mobility stand can give your client and our team of dedicated customer support agents and expert delivery engineers work to ensure your customer receives their new hoist or stand when it's expected. Our engineers will set the hoist and stand up to ensure it's ready to use before giving your customer an expert demonstration and showcase of their new system to ensure they're ready to use. Our goal is to ensure your customer is completely happy with the delivery process from start to finish.
As a customer your able to track orders via our website, allowing you and your end customer to track the progress of an order in real time for complete peace of mind.
How our Hoist & Aid Stand delivery service works